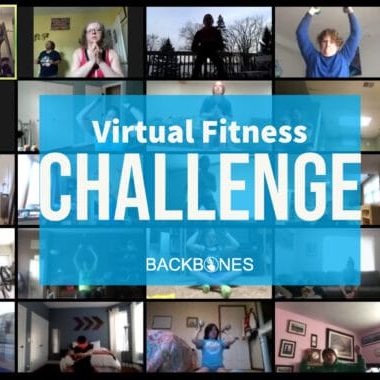 Numotion Foundation Support of BACKBONES Helps Provide Continued Programming During Pandemic
As the COVID-19 pandemic continues to affect those living with mobility-related disabilities and their support networks, the Numotion Foundation has provided needed funding that has helped BACKBONES continue virtual programming for those living with Spinal Cord Injuries/disease.
Funds provided helped BACKBONES provide programming that has been designed to counter feelings of social isolation and lack of personal connections. Program offerings have included:
February Fitness Challenge with Dare2Tri highlighted by weekly fitness sessions with giveaways to keep attendees engaged and feeling a sense of community
Advocacy efforts including a panel of disability advocates who spoke about how they started their advocacy journey as well as the issues with which they are currently involved
Book discussions featuring special guest author, Rebekah Tausing
Information on creating an accessible home complete with virtual tour of an accessible home and its features with author, Julie Sawchuk
Adaptive virtual fitness sessions with Vertical Blonde including one month free subscriptions to Vertical Blonde's weekly workouts for all participants
Virtual parents of SCI peer support group program
Leadership programs featuring speakers Jenn Wolf, Mark Johnson, Anne Streit, and more!
To learn more about BACKBONES and those they serve, visit: www.backbonesonline.com
Read More Success Stories