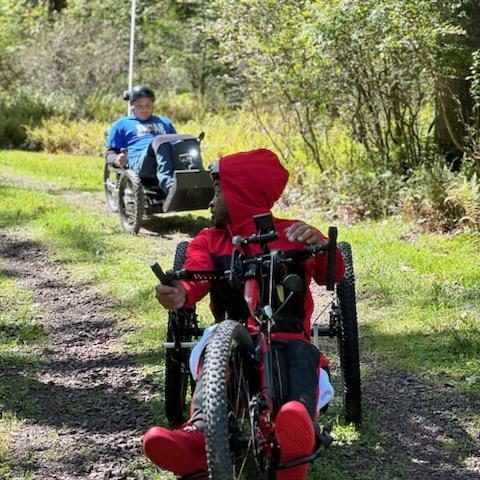 Numotion Foundation Provides Funding to Individual Abilities in Motion
As a program of its 2023 partnership with United Spinal Association, the Numotion Foundation provided program support to Individual Abilities in Motion, United Spinal's NE Pennsylvania chapter. The event provided those living with mobility-related disabilities the opportunity to experience equipment designed to provide greater access to nature and the outdoors.
Joseph Salva, President of Individual Abilities in Motion provided the following impact story:
Dear Numotion Foundation,
This past September we held an event that we called Off-road Adapted. It was an opportunity for individuals to come out and try a variety of different equipment designed to allow people with mobility impairments explore the outdoors. Thanks to the support we receive from sponsors like the Numotion Foundation we were able to coordinate having different equipment from companies in Western PA, Rhode Island, and even North Carolina present at the event.
We had an equally impressive draw for the event with over 70 people joining us from as far south as Philadelphia as well as a few people from New York and New Jersey making the trip to join in this unique and clearly popular opportunity. On behalf of everyone at I AM and those that attended the off-road event, I want to extend our heartfelt thanks for making events like these possible.
To help illustrate the impact your support had on the lives of others I'd like to share some quotes
from individuals who participated in the event:
" It feels amazing to be able to access the outdoors with the adaptive equipment. I feel like I have no limits!" Emily
"I didn't think I could do any off road until that day; it opened my eyes to see past the limitations I put on
myself!… You are helping us exceed past the limitations we put on ourselves by giving us this opportunity to try new things… Events like these not only helps with our physicality, but also helps us mentally and emotionally. Thank you for all that you do to make this happen for us! We truly hope you guys can continue these events to further bring awareness and people together!!" Wilson M.
"Thank you to everyone who made this event possible. I had so much fun!" Lyla S.
"Thank you all for giving me the opportunity to experience this. I will NEVER forget it!" Nichole S.
I think these quotes speak to the impact that having the opportunity to participate in adaptive activities can have on an individual's life. Thank you for your role in making them possible and for joining us in our work to help enrich lives!
Sincerely,
Joseph Salva
President, Individual Abilities in Motion
To learn more about Individual Abilities in Motion, please visit their website.