In 2022, the Numotion Foundation continued its support of BACKBONES, an organization dedicated to connecting people with spinal cord injury (SCI) and their families with others living with similar injuries and interests.
BACKBONE's Executive Director, Reveca Torres, shared the following summary of how funding from the Numotion Foundation helped continue their programming during a challenging time:
"During the COVID19 pandemic, the disability community has been faced with new challenges in regard to their ability to participate in events and programming as well as simply receiving basic essential care and information. With the support of Numotion Foundation, BACKBONES was able to continue to offer ways of connecting virtually through our PeerConnect program, dedicated to providing monthly online peer groups for people with spinal cord injury or disabilities (SCI/D).
The program format varies dependent upon need including Q&A, interview with a guest, or group conversations on a presented topic. Attendees are usually people with SCI/D, family members and health providers. Some sessions are not recorded to create a safe space that encourages participants to share openly. Some of the PeerConnect highlights include:
Cooking Demonstration – A live cooking demonstration with Gabby DiSalvo from Cooking On Wheels! Gabby prepared a stir fry dish and shared her recipe so others could follow from home. During the demo Gabby offered tips and tricks she's learned from cooking in a wheelchair.
Book Discussion with Jerry McGill – A discussion on the book Bed Stuy joined by the author, Jerry McGill. Jerry is a writer and artist who lives in Portland, Oregon. He is a quadriplegic and wheelchair user who also wrote a memoir about how he sustained his injury.
Conversation with the Reality Poets – During National Gun Violence Awareness Month BACKBONES invited the Reality Poets – an artist collective of current and former residents of a long-term care facility on Roosevelt Island in NYC with the mission to spread a message of realness, resilience, and healing- to speak about their upcoming film and #NursingHomeLivesMatter initiatives.
Adaptive Gaming – A conversation with Jose Hernandez a person with SCI/D who shared their experience, set-up and resources available for those interested in gaming. 
Make-Up Transformations – A Q&A with Tammy Le, a quad woman who shared adaptive tips and tricks on applying makeup, and videos of her amazing cosplay makeup transformations.
We look forward to offering additional fun and educational PeerConnect sessions in 2023! Thank you to the Numotion Foundation for their support!"
To learn more about BACKBONES and their programs, please visit: backbonesonline.com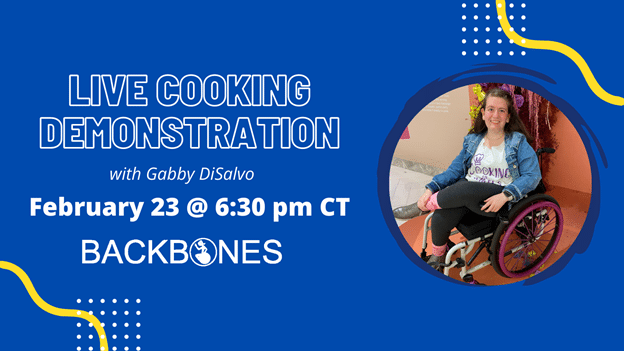 Read More Success Stories